About Mojica Chiropractic Care
At Mojica Chiropractic Care, we want practice members to take our excellent chiropractic care and education to the next level by creating the healthiest lives possible for themselves and their families. Dr. Liz is passionate about our mission, vision and purpose:
Mission
To inspire a healthier community by empowering women and children to lead a holistic lifestyle.
Vision
To see thriving families and empowered communities.
Purpose
To serve with love and compassion and provide a safe environment that will allow those empowered families to truly connect.
Mobile Care
Dr. Liz attended New York Chiropractic College, graduating with her Doctorate of Chiropractic in July, 2018. Practicing in a traditional brick-and-mortar practice for three years has shown her just how difficult it is for many people to get the care they need. This inspired her to create a mobile chiropractic practice, where she literally brings care to your door.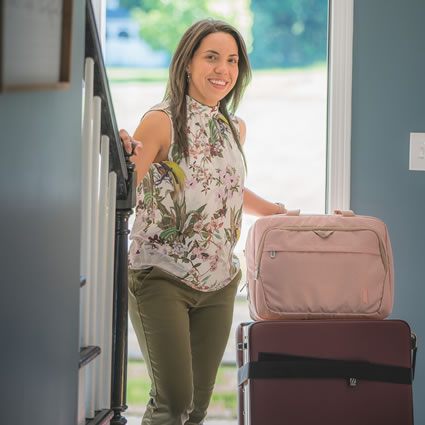 Many of the kids Dr. Liz provides care for have developmental delays and behavioral issues. For many, going anywhere unfamiliar can be agitating and trigger their behaviors. This makes it difficult to take them places, since the parents worry about what they might do and how other people will react.
By offering the care they need right in their home, Dr. Liz allows the child to remain in a comfortable environment where they feel safe and in control. When their nervous system is relaxed in this way, it makes the chiropractic adjustment more effective.
Get Healthier, Live Happier
Not feeling well impacts every facet of your life-how you function at work, how you treat your kids, how you relate with your partner-and Dr. Liz wants to help you get your health back so the ripple effect of happiness improves your life, as well as your family and your community. Contact us today to learn more.

About Mojica Chiropractic Care | (321) 348-8717