Pediatric Chiropractic at Mojica Chiropractic Care
The Importance of Milestones
There are specific milestones that babies need to achieve during their development, and when milestones are missed, certain neurological pathways aren't formed. When these pathways aren't formed, issues can be compounded and result in developmental delays and behavioral issues. Oftentimes, stress from the birth process can affect the nervous system in a way that limits or prevents a baby from reaching those milestones.
How Chiropractic Care Helps
Pediatric chiropractic care at Mojica Chiropractic Care is extremely gentle and very precise, and it can help to eliminate the interference in the nervous system, allowing it to communicate the way it should.
Dr. Liz is certified in chiropractic pediatrics, and has advanced training on recognizing developmental delays, identifying which parts of the brain are missing connections, and rehabilitating the nervous system.
The first step is to remove the interference with chiropractic adjustments. Then, there are specific activities the child can do to improve the brain-to-body communication through the nervous system. These activities help develop the neural pathways that weren't formed, so the brain can catch up to where it needs to be in terms of development.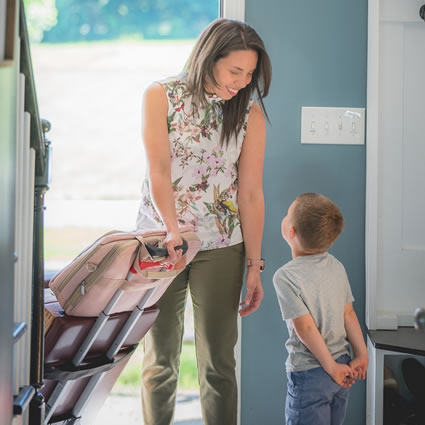 Care at Home
For kids, having chiropractic care at home eliminates much of the stress associated with going to doctors' office. Dr. Liz loves treating kids, and she meets them where they are, building a rapport and allowing them to get comfortable with her on their terms. Being in their own environment helps kids feel calmer, which makes the adjustment more effective.
Helping Children Thrive
Many parents come to us when doctors tell them their child will "grow out of" something or that there's nothing more they can do. They feel helpless, frustrated and heartbroken that their child is suffering. We offer hope by addressing the nervous system interference, which in turn allows every system in the body to function better. So instead of a wait-and-see approach, we can proactively help your child thrive.
Start Today
It's never too soon to get chiropractic care for your child! Contact us today to schedule an appointment.
CONTACT US »

Pediatric Chiropractor Winter Springs, Oviedo FL | (321) 348-8717