Mojica Chiropractic Care Reviews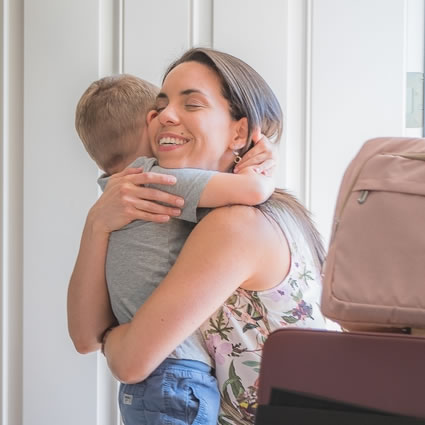 What Our Winter Springs Patients Say
At Mojica Chiropractic Care we love when patients share with us their feedback and comments after chiropractic care. Please read our patient testimonials below to see what other people have achieved through their tailored treatment plans with us.
Share your stories too! Click here to send us your feedback so that we can help to spread the word about the benefits of natural Mojica Chiropractic Care care.
For more information, or to schedule an appointment contact us today.

Reputable, Loving and Precise
I have been a patient of Dr. Liz Mojica's for years and I can honestly say there is no other practitioner like her! The way she cares about her patients is exceptional. From infants to pregnant woman, to athletes, to geriatric patients she takes time to carefully individualize your care plan and connect with your needs at every appointment. Dr. Liz is wildly knowledgeable, compassionate, and incredibly skilled. I would not trust anyone else with me or my family. Even though chiropractic can be scary for little ones the benefits are life changing, the kids absolutely love her. I wish I had started sooner! She always goes above and beyond for her patients, and I truly feel like family. If you want reputable, loving, and precise chiropractic care for you or your loved ones, Dr. Liz Mojica is the only choice!
– Emily P.
Quality of Life
Dr. Liz and Chiropractic care truly changed my life after I began receiving adjustments due to sciatic pain while pregnant. She makes every person feel so special and treats her patients like family. Dr. Liz is truly passionate about helping others, and it shows through her compassion and extensive knowledge. I was so happy with my quality of life, and the positive changes that I was seeing, that I knew it was a no-brainer to have my daughter, Lillian, start receiving adjustments at just 12 weeks old, and my husband soon after. I cannot thank Dr. Liz enough for what she has done for myself and my family and cannot recommend her enough!
– Lauren B.
Highly Recommend
Having never been to a chiropractor before I will admit I was skeptical walking into the office for the first time. Fast forward two years and I cannot fathom how I ever survived without treatment from Dr. Liz. My physical health has improved to a quality of life I did not think was possible again. In addition, Dr. Liz has taught me the importance of mind and body connection in a way that has allowed me to slow down and prevent injury or extra stress to my nervous system. I recommend all my loved ones, friends, or anyone who is hesitant to start treatment with Dr. Liz.
– Tess M.
Excellent Care
Dr. Liz has taken excellent care of my family over the last 3 years. She is absolutely incredible with my 4 year old son and he loves getting adjusted by her. My family's health is definitely better because of Dr. Liz's care!
– Kelly P.
Excellent with Children
Excellent!! Dr. Mojica is very professional, attentive, kind, very good with children and with extensive knowledge in her area of work. Highly recommended.
– Ahisha R.
Eczema Relief
Dr. Liz does such an amazing job with young children. Not once has my 3-year-old been afraid or cautious during her adjustments. In fact, she often asks "When can we go see Dr. Liz again?" We have seen Dr. Liz in the office as well as a home visit. Every experience has been exceptional. We came to Dr. Liz in search of an alternative approach for eczema relief and for the first time in a year my daughter's skin is clearing up without any topical steroids or creams. Dr. Liz truly takes a full-body approach to treating her patients by asking about diet, lifestyles, past traumas, etc. We highly recommend Dr. Liz.
– Jordan B.
Wonderful Experience
Such a wonderful experience and already feeling a difference in my neck and back! Highly recommend Dr. Liz!
-Barbara C.
Quality Patient Care
Dr. Liz, my experience in your capable hands has been a pleasure and a success in terms of quality, cost and outcome which in my business, is the three-legged stool of quality patient care. I couldn't have asked for better chiropractic treatment or "bed side manner", the goal of walking pain free was achieved, and at a reasonable price. I won't be a stranger – Thanks! SMK
-Spense K.
Great Communicator
Liz was a great communicator, explaining everything in detail and giving me opportunities to ask questions. Felt lighter and an inch taller after my session, didn't know my neck could make those noises. I would definitely recommend to friends and family! After about 6 weeks of therapy I can feel a definite improvement. Liz did another scan today and there was confirmation from the readings. She again took the time to review and explain the details with me and also provided opportunities to ask questions. Very pleased with her service and professionalism!
-Jeff Y.
Very personable and willing to listen
I recently injured my back and hip while at the gym, and wasn't sure where to go to get this fixed. I have never gotten any chiropractic services before. But with Dr. Liz's care and advice, after just a few short realignment sessions, I was able to go back to the gym with no issues or pain in my lower back! I am still going even after the fix, and feel better every time! I would highly recommend Dr. Liz to anyone looking for a chiropractor! Both Dr. Liz and Analib are very personable and are willing to listen to what is going on.
-Paul P.
Patient with my daughter
Dr. Mojica was really good and had patience with my daughter's, (she is soon to be 4)first time evaluation. She explained everything to her and involved her in the process. We are so excited to start this new journey of wellness for my daughter.
-Analib C.
Incredible house call experience
Dr. Liz was timely, patient, educational, and having her come to my home for an adjustment was an incredible experience. She was very educational and did a great job explaining to me the different charts of my personal nervous system. She helped me understand the importance of how some of my other health issues may be stemming from being out of alignment, and after she aligned me… I felt incredible! It had been a long time since I had been adjusted and I felt a difference right away, and now have a better understanding of why I have been having issues sleeping, dealing with stress etc. Plus, she was very friendly, flexible and patient with me and my cat since he kept wanting to join us. I highly recommend Dr. Liz. Professional, educational, and immediately impactful. I cannot wait to keep having her come to my home for more adjustments!
-Madison W.
Corporate Visits
Liz comes to our office every two weeks and adjusts each and every one of us! The first visit is so cool! She does like 3 different scans to see exactly where you're out of whack and show you what she's going to work on for you. Then, ah, the relief! I have so much more mobility in my back now, and it's only been 6 weeks since we started! I'm so grateful to my boss for giving us this gift. It's a great team builder and makes me enjoy my workplace even more than I did before. I'm looking forward to a long relationship with Liz, my beautiful new friend and chiropractor! Soon, I will be able to do a full bridge again in yoga like I could when I was a kid!
-Laurie S.
Dr. Liz helped me get my life back
Dr. Liz helped me get my life back. As a dad with two kids, it was of utmost importance that I do what I could to become active again. Before being under her care, I was unable even to tie my shoes without experiencing pain. Within a few weeks of precisely tailored treatment specific to my situation, I was standing, walking and tying my shoes with little to no pain. Now here I am, almost one year after my initial treatment and I can do the things I've been missing out on for the past 3 years. You truly could not be in better hands for your chiropractic needs. Dr. Liz is the best.
-Ryan G.
Passionate and knowledgeable
Dr. Liz is amazing! She is very knowledgeable and passionate about what she does and it shows. I learned more in my initial visit with her than I have in all the years that I have been getting adjustments from a number of chiropractors. If you are in need of an adjustment, I highly recommend you see Dr. Liz!
-Alisha C.

Mojica Chiropractic Care Reviews | (321) 348-8717