Mojica Chiropractic Care Trusted Providers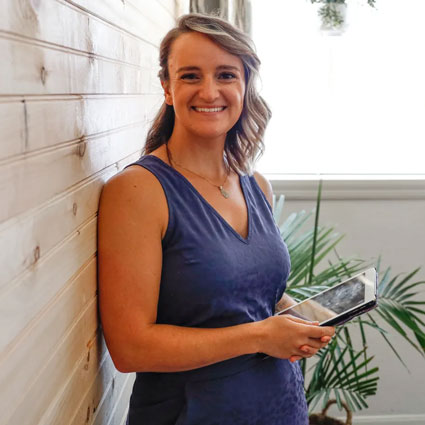 Molly McNeel, AP, MSAOM, DIPL, BSN, RN
Specialties:
Reproductive Health, General and Wellness, Mental Health
"I am a medical professional who puts your healing needs first. I am proud to provide a high-quality level of customer service, medical experience, and commitment to health and wellness to all my patients. My goal is to help you feel your best to live your best life."
Alex Sanchez, BCB, BCN
Specialties:
Brain Map Analysis, Neurofeedback protocol
Alex Sanchez is the owner of Central Florida Biofeedback. He has 26 years of experience helping people improve their ability to relax and focus. He has performed thousands of brain maps, neurofeedback and biofeedback sessions.
Kayla Mackey, D.O.M., Dilp. O.M, L.Ac
Specialties:
Mental/Emotional Health, Athletic Recovery, Women's Health/ Fertility/IVF & IUI Support, Male Reproductive Health, Irregular Menstruation, Stress Management/Nervous System Regulation, Cosmetic Acupuncture/Microneedling, Acne and Skin Health
"It's my mission to reveal the true power we encompass in ourselves to heal. We have the capability to create health in our lives through nutrition, stress management, movement, daily practices and awareness of our bodies. My goal is to help you dismantle anything that is getting in the way of you feeling your best. We have the ability to understand our potential and write a desired outcome for our lives."
Debra Beckman, MS, CCC-SLP
Specialties:
Oral Motor/Motor Speech Disorders, Apraxia, Dysarthria, Feeding Disorders/Picky Eaters, Medically Fragile, Premature Infants, Child Speech and Language Disorders, Infant Feeding Difficulties, Early Intervention for Speech and Language Delays, Tongue Tie, TMJ Disorders, Tongue Thrust, Autism, Developmental Disorders, Fluency Disorders, Kinesio-Taping, NMES
Ms. Beckman has worked in the field of communicative disorders since 1975, specializing in motor speech disorders.
Brooke Simmons, IBCLC
Specialties:
Lactation Consultant
"Family means everything to me and I know that what works best for one family may not necessarily work best for all families. Breastfeeding is not a one size fits all. My goal is to help make breastfeeding work best for you and your family. I want to help you reach your own personal breastfeeding goals, whatever they may be, and look forward to meeting you and working with your family during this special time in your lives!"
Jamie Batchelder, MA77750
Specialties:
Massages, Doula
"Hi! I am Jamie Batchelder, a licensed massage therapist (MA77750). I graduated from Source Institute Massage School in Fort Walton Beach, Florida in 2014 and recently obtained my esthetician license (FB9788892) from Florida Dermal Institute in Orlando. With 8 years of massage experience, I have gained a comprehensive knowledge of my profession. My goal is to provide a massage based on the different needs of each client. I will employ targeted techniques that can promote relaxation, improve circulation or reduce stress, pain, muscle soreness or tension. I continue to educate myself on different modalities to best serve the needs of every client."
Tiffany Lerouge, LMT, MMP
Specialties:
Massage, Medical Massages
"Hi, I'm Tiffany Lerouge, LMT (licensed massage therapist), MMP (medical massage practitioner)! I've been a licensed massage therapist since 2009 and during this journey I have worked side by side with chiropractors helping car accident victims, sport injuries, work injuries, daily aches and pains to recovery."
Dr. Larisa Scott
Specialties:
Functional Medicine
"At OWR we believe that total wellness begins within a person. We are here to coach and educate our patients how to achieve their optimal health by giving control back to the patient. Each person is different, and we treat each person with a personalized treatment plan depending on the patient's health goals."
Lyndsey Sutherland, DNP, ARNP, FNP-BC
Specialties:
Natural and Conventional Medicine
"We serve patients from newborns to young adults by integrating natural and conventional medicine to help families find wellness."
Tracy Housley, Certified Doula
Specialties:
Birth & Postpartum Doula, Childbirth Educator, Placenta Encapsulation Specialist
"I'll meet with you for prenatal visits where we'll discuss your preferences, your vision for your birth and I'll share with you some useful tips to help you achieve the birth you desire. Together we'll walk the path as it unfolds, and I'll be here for you every step of the way."

Mojica Chiropractic Care Trusted Providers | (321) 348-8717