Mojica Chiropractic Care Home Visits
At Mojica Chiropractic Care, we know that it can be difficult for some people to get to our office for care—and it's often these people who need care the most! So Dr. Liz Mojica offers old-fashioned house calls for our practice members who need it.
What to Expect

Who Needs Home Visits?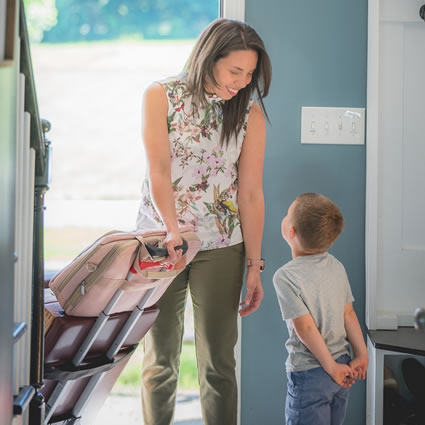 Dr. Liz specializes in prenatal care and pediatrics, and there are many instances where practice members simply can't leave their home. With some pregnancies, driving may be prohibited, or the woman may be placed on bed rest. Even in a low-risk pregnancy, moms may have other kids at home, making it tough to get everybody into the car to come in for an appointment.
Lots of kids on the autism spectrum and other children with developmental delays, behavioral or sensory issues struggle in a new environment or anywhere they don't feel a sense of comfort or control. Chiropractic care can often be life-changing for these children, but sometimes we have to bring that care to them.
We also see some very large families. Logistically, it's just easier for Dr. Liz to go to them, rather than parents getting six or seven kids all ready to go at the same time!
How Home Care Benefits Kids
Since going somewhere unfamiliar can be a trigger for kids on the spectrum and others with sensory processing disorders or behavioral issues, coming into the office can add stress to their nervous system—which is the exact opposite of what we're trying to accomplish. By offering care in their home, where they feel comfortable, their nervous system can relax, allowing their chiropractic adjustment to be even more effective.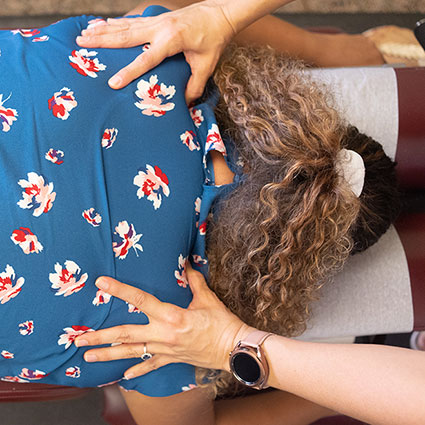 Your First Home Visit
A home visit includes the same comprehensive care you'd get in the office, so plan on about 45 minutes to an hour for your first appointment. We ask that you complete the new patient paperwork before Dr. Liz arrives.
Your visit will include the following:
Consultation
Detailed health history
Examination
INSiGHT® neural scans
Based on her findings, Dr. Liz will explain what's going on with your health and how chiropractic may be able to help. She'll outline her recommendations for care, and if you're ready to continue, you may receive your first adjustment at this visit.
Follow-up visits may be in our office or in your home, depending on your specific situation.
Schedule and Travel Limitations
Dr. Liz offers home visits on Wednesdays, within a 30-minute (approximately 15-mile) radius from the office. In addition to our normal fees, there is a travel fee of $25 for this service.
Schedule Today
We want to help as many families as possible get the care they need to thrive! If circumstances prevent you from coming in for care, contact us today to learn more about our home visits or to book your first chiropractic house call.
Contact Us

Mojica Chiropractic Care Home Visits | (321) 348-8717